<![if !supportEmptyParas]> <![endif]>
<![if !supportEmptyParas]> <![endif]>
Interview by Fucking Good Art Zine, Rotterdam with Szuper Gallery, Nov 2004
<![if !supportEmptyParas]> <![endif]>
<![if !supportEmptyParas]> <![endif]>
Question: Fucking Good Art (FGA)
You operate as Szuper gallery. It's strange to see this name in a list of art shows with individual artists. What is Szuper gallery and how does it functions?
To me Szuper gallery looks like an art project, and an unconventional way of making art and/or what the contemporary art practice can be. How far do you want to push the boundaries of art making?
<![if !supportEmptyParas]> <![endif]>
Answer: Szuper Gallery (SG)
We have used the name Szuper Gallery for our collaborative practice since we started as curators in a commercial gallery with this name in Munich. The gallery went bankrupt because we were unable to sell any work. Probably because we turned the running of the gallery into an art practice. We appropriated the name when we left the gallery. Since then Szuper Gallery has been an interesting tool to test out a number of strategies, practices and collaborations. As you say it is odd to see the name included in shows with individual artists. We were always interested in this sort irritation. Our experience with the commercial art world had really changed our perception of the work that we wanted to do. We realised that it makes no difference whether to be inside or outside the system, as of course there is no outside. We began to develop strategies of intervention and or collaborations with various locations and places. These turned out to be mainly different institutions, places of work or authority. We became interested in structures of power. Therefore it seemed appropriate to act from the basis of an institution ourselves.
<![if !supportEmptyParas]> <![endif]>
<![if !vml]>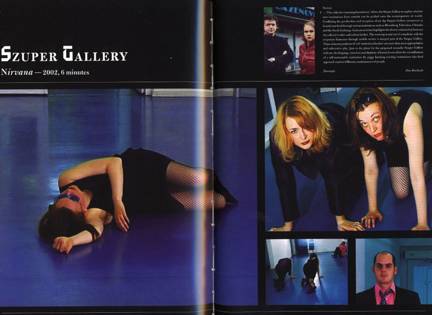 <![endif]>
<![if !supportEmptyParas]> <![endif]>
<![if !supportEmptyParas]> <![endif]>
<![if !supportEmptyParas]> <![endif]>
<![if !supportEmptyParas]> <![endif]>
FGA:You invade into the white cube of the institutes looking for its limits. How radical is your art practice?
<![if !supportEmptyParas]> <![endif]>
SG: It is very difficult to reach a border or a wall within actual art institutions, as they will appropriate and use any artist strategy, so that there are no real boundaries. But of course in other sphere or institutions there are still very clear boundaries. We could experience this clearly in our LIFTARCHIVE project. The location of this project is the Munich Kreisverwaltungsreferat, the district authority. It depends on the context how the work is received. Generally we would say that we try to experiment with strategies, tactics and locations. We like to make a comparison with the notion of La Perruque, The Wig, that appears in Michel de Certeaus' The Practice of Everyday Life. The Wig is an expression for a practices and behaviour, something that probably takes place at every work place. 'It is the worker's own work disguised as work for the employer' (de Certeaus). It doesn't mean that the worker is stealing or simply absent, but that the produces something during his work time, like the office worker writing a love letter. We have tried to exercise this in many different ways, for example when we are involved in money making activities, like art school teaching or working on film sets. While we are involved in this work we try to produce a piece work of our own. For example we try to turn the teaching situation into an art piece or have secretly used a film set as a backdrop for our own videos. At a normal work place usually this kind of activity is penalized or ignored. But the worker using The Wig, steals time from the company that is free, creative and not directed toward profit. It is about spending time in your own way, for your own video. In some ways this is a strategy, whereby the general order is tricked. And this means that a different moment, reality or narrative is inserted into the institution that is supposed to be served.
<![if !supportEmptyParas]> <![endif]>
FGA: In 1999 you did Crash! in ICA in London. What is it about and were other artists involved?
<![if !supportEmptyParas]> <![endif]>
SG: Crash! was a group show at the ICA. The curatorial premise was to show work that dealt with issues around corporatism and complicity. For our project we asked the ICA for a sum of money to invest in the stockmarket from within the gallery. The intention was to generate funds to pay us for the idea and performance. The ICA found a donor who was willing to invest £5000 in the project. We had hoped to keep all the profits and return the original amount. The final agreement was that we and the donor would share the profits 50/50. The installation included a real time trading arena with computer and internet connection to an online broker. We started by trying us in day-trading, a very risky but possibly efficient way to trade. However, since it is actually quite difficult to find your way through the jungle of the stock market and because no one was willing to give us any good tips, we lost most of this money.
<![if !supportEmptyParas]> <![endif]>
FGA: 2000. The name Alexander Brener, the artist who sprayed a green dollar sign on the Malevich painting can be found in your archive. Art as a political activity. How political is Szuper? And what does Szuper think of conventional art practice?
<![if !supportEmptyParas]> <![endif]>
SG: This work is an interesting example for the relationship between art and crime. For a show at the Smart Project space in Amsterdam we made a cake with little figures on top that represented Alexander Brener's action "Gesture on Suprematism by Kasimir Malewitch". For this he had sprayed a green dollar sign on a Malewitch painting in the Stedelijk Museum and was imprisoned for 18 weeks. That action had a polarizing effect upon the otherwise homogeneous art world of that time. One side insisted that he was a serious artist and that this was an act of pure artistic expressivity, supporting their opinion with art historical references (DADA, Fluxus, etc). The other side perceived him as a criminal, plain and simple. Some people blame him for the present situation where more and more works of art are displayed behind thick bullet-proof glass. At any rate, Brener achieved over night international fame and that's rather astonishing as art history is full of examples of more or less aggressive interventions into institutions. For example Macunias suggested to stick chewing gum into the keyholes of museum doors.
<![if !supportEmptyParas]> <![endif]>
FGA: One of the projects you did is Venice 2000. It was commissioned by South London Gallery. The newspaper described it as a successful art heist, which took place in Venice in 1999. A group of clever con men tricked more than a dozen galleries out of million dollars worth of artworks. How do we have to inteprete this work? Is it just about fucking with the system?
<![if !supportEmptyParas]> <![endif]>
SG: We were intrigued by this news item and used it for different outcomes: a video for which we organized a party that celebrated this successful art heist and an installation in a shuttle bus between Tate Modern and the South London Gallery. For the video piece, the heist included a detailed play whereby a group of con men rented a 17th century Pallazzo and set themselves up as an art collector's family. The entire setting was so believeable, that one gallerists after the other walked in and turned over their very expensive picture, in exchange for a deposit slip, while a whole family drama enrolled in front of them. And with every picture that was received and installed in the Pallazzo the scene became even more convincing to the next gallerist. The Pallazo was rented for only one week, paid with an invalid check. It is amazing how artful the whole setup was, reminded us of the 'invisible theater' strategies from the 70s. It would be great if one could for example use similar strategies in the immigration politics. In Germany artists and sportsmen are usually able to get long stay Visa's and work permits. It would be an interesting enterprise to invent a large number of artists in foreign countries who could then seek work permits.
<![if !supportEmptyParas]> <![endif]>
FGA: The LIFTARCHIV started in 2001 and was commissioned by the Baureferat der Landeshaupstadt München. What was the initial question? Did the idea for the LIFTARCHIV evolve from thinking differently about commissioned work and art in public space?
<![if !supportEmptyParas]> <![endif]>
SG: The LIFTARCHIV (www.liftarchiv.de) is a platform to test out the possibilities for making art within an institutional or public domain. It explores issues around intervention and decoration, collaboration and critique. We didn't want to make a participatory work. The context of the Kreisverwaltungsreferat is difficult because of the massive politics related to the place. Therefore we tried to insert this parallel structure into the context of the space. The LIFTARCHIV consists of a moving glass elevator cabin and an archive inside, situated in the foyer of the Kreisverwaltungsreferat, the Munich district authority, which for example houses the Munich registry and immigration office as well as the election office. One of the main activities of the host institution is the administration of migration as well as cross-border travel, which on the one hand regulates German travel abroad as well as travel, residence and mobility of foreigners in Germany.
<![if !supportEmptyParas]> <![endif]>
The lift cabin presents an archival structure within the 'institutional archive' and serves as a mobile interactive sculpture. Designed to travel up and down one of the walls of the foyer of the institution, it is used as a platform for a series of presentations and events, programmed over the project period of four years. It consists of a series of screenings, talks and performances. For each event the institution opens its doors after office hours and transforms itself into a new venue, where different people can meet. The lift cabin also mimics the architectural features and themes of the authority building. The institution tries to be transparent and customer friendly, and the LIFTARCHIV mirrors this with its literal transparency, openness and mobility. But at same time it appears non-official, non-functional, an absurd feature in the environment.
<![if !supportEmptyParas]> <![endif]>
So far our relationship with the actual host institution, the KVR, has been difficult but productive, and we came to understand, that it is probably symptomatic for the difficulties of the issues that are related to the location, the tense and heated debate around the issue of immigration. We found that we constantly had to re-define the purpose of the project and to re-negotiate its conditions of existence. However, this difficult dialogue with the institution has become an integral part of the process of the work. The centre of the project has become an ongoing collaborative process and a conflicted dialogue, but also an attempt to create an interface between the institutions, the public, us and other artists and groups. The LIFTARCHIV became a tool for negotiating our relationship as artists with the institution, its employees and customers. It represents an interface for the complex issues related to this location: the issue of immigration and its administration, that doesn't allow simple answers. Therefore we are less interested in finding answers, but rather in starting a process of movement, like the rise and the descent of the lift box, symbolic for the rise of wishes and hopes, their symbolic language, their reflection and deconstruction.
<![if !supportEmptyParas]> <![endif]>
FGA: 'The movement began with a scandal' was a project in the Lenbachhaus München. You state that art critique still belongs to the museum. What do you mean?
<![if !supportEmptyParas]> <![endif]>
SG: In 2002 we curated a show together with Alun Rowlands of works by different artists that were inserted into the Lenbachhaus collection. Most of these works questioned the functioning of the museum and the art system. For example, Salon de Fleurus is an anonymous group endeavor in the form of a long term exhibit whose subject is the collection of modern art assembled in Paris by Gertrude Stein. There is not an "official explanation" or "manifesto" that would explain to the visitors what this place is, what they are looking at and what might have been the intentions of its "authors". All interpretations (statements, articles) of this place so far have been external and they are all considered to be "legitimate". There is a place in Manhattan, New York that defies description. It is not a museum, gallery, residence or sacred space yet it suggests all of these. Its caretaker, Goran Djordevic, explains to visitors that the collection of African sculptures, antique curiosities and reproductions of modernist paintings constitutes a contemporary exhibition of anonymous artists. He reveals that reproductions relate to Gertrude Stein's art collection at her apartment on Rue de Fleurus, Paris. The place is a Proustian return to the realm of memory. It is an evocation of the modernist spirit of the early 20th century an imaginary restaging. At the Lenbachhaus Museum we placed artefacts from the collection 'on tour'. Placed in the Blue Rider gallery these facsimiles relate to Kandinsky et al's search for original expression that included plundering non-European cultures. The objects and paintings are, themselves, a negation of authenticity, authorship and even historicity. The salon is a healthy antidote to the museum's demand for clear and easy boundaries. It recaptures something of a bygone experience of art-viewing, forging a critique of contemporary museum presentation imbued with a shifting modernist revisionism.
Our own work, the video performance 'Good Morning Mr. Bloomberg' unveils a business deal, recorded on video, which is being celebrated between the artists and collector. The camera focuses on gestures, ritual actions, artificial friendliness and smart dress. From these details the viewer begins to sense that here the art world and economics are meeting in a lavish environment. The collection and acquisition of art works, the clinching of a deal, all begin to display the overlap of culture and corporate economy. We as artists, perhaps, are entering into a partnership in which we are both complicit in our own manipulation of symbols and representation.
<![if !supportEmptyParas]> <![endif]>
FGA: Trading Places was a show in the traditional Pump House gallery in London in 2004. It's an encouter between art and migration. Art as a means to investigate specific (social and political) topics. Is this still art? What will be the role in the future of artists and what will art look like?
<![if !supportEmptyParas]> <![endif]>
SG: We have actually an ongoing project called "gallery fiction" which was a research into different peoples ideas and a projection onto a future art system. We asked them how they envisage an art and exhibition practice in 50 years time. We conducted a series of interviews with different artists, curators, professors, museum people. It turned out that most people think that not much will actually change but that there is only hope for small or personal changes in working or living conditions. We thought about this and realised that probably first of all we need to question and the role of art education today, as it is still seems to be the channel through which most people come to art and that forms views on art and the art system. Therefore our project has become much more concrete in that we are now asking artists and curators who are also teachers about their own experiences of their teaching as well as of what other or future models of art education they might be able to envisage.
<![if !supportEmptyParas]> <![endif]>
FGA: This new way of making art has also a problematic side, I think. Most presentation in an art space are simply not interesting for the public. Even with Teasing Minds at the moment in the Kunstverein I observed that it's hard for the public to understand or get into it. And I must confess it is a bit boring, but at the same time very interesting. Maybe the exhibition format isn't right, maybe a publication is more effective. My question is: how can we change this format, what other presentation forms can we develop?
<![if !supportEmptyParas]> <![endif]>
SG: We are not propagating an object-less art. We agree that many presentations in contemporary art spaces are boring to the public and very elitist in their approach. But is this a question of formats or of contents or how contemporary art is embedded in society. Perhaps one suggestion is a format like the LIFTARCHIV. An almost "autonomous" presentation structure inserted into a non-art space. Let's fantasize. "Non-art" institutions will open their doors for "art " initiatives, and in return "art" galleries offer their space for these "non-art" institutions to represent themselves.
(There is a quote from a TV program "Test Tube" by the Canadian artist group General Idea. They called the format of their show the " I can't believe it's a format".)
<![if !supportEmptyParas]> <![endif]>
<![if !supportEmptyParas]> <![endif]>