FANNI NIEMI JUNKOLA_Born 1962 in Tampere, Finland,
Concepts
I work mainly with video and film, (single screen/video projections/installations). My work deals with definitions of personal space and freedom in relation to ones surroundings. It focuses on the tension created between staged/real, planned/unexpected, safe/unsafe, viewer/object; how this tension reflects the uncertainty in relationships between individuals and societies.
<![if !vml]>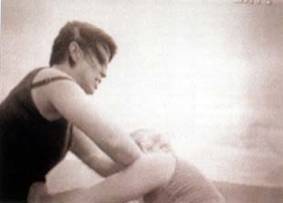 <![endif]>
Giants, 1998 , 16 mm film transferred to DVD (color, sound), 60' loop
<![if !supportEmptyParas]> <![endif]>
BY: Mika Hanula (..) Giants is actually a third part of an unplanned trilogy of video works, which are all focused on different close-ups of people fighting. Despite the same starting point, works that have evolved between 1993 and 1998, they are by their character tellingly different. Whereas in the first work, she was boxing and getting literally smashed by a male boxer, the two later ones project a much more even and balanced physically aggressive relationship between two women. The steps leading from the highly personal and tragical misery into realms of very nuanced articulations of the various aspects of violence of everyday physical contacts are quite astonishing.
<![if !supportEmptyParas]> <![endif]>
The scene of the Giants (1998), shot on 16-mm film but showed as a loop of a large video projection of circa 2.5 x 4.5 meters, is both unfamiliar and familiar. It is an explicitly non-place, but a site which in its anonymity is recognised very easily. Standing on the rocks of a tiny uninhabited island outside of Helsinki, there are two women wrestling and hitting one another.
The most curious aspect of the act is its disturbing timelessness. The video shapes a physical presence for itself, not unlike the three-dimensional substance of traditional sculptures – a direct reference to her background as a student beginning with sculptures. Besides the stressed non-linearity and open-ended structure of the narrative, she has achieved the effect with a delicate and dangerous but successful technical trick. The pictures of fighting women, their gruffed sounds and the ubiquitous waves of the sea are all in slow motion.
<![if !supportEmptyParas]> <![endif]>
The result is the age-old but lucrative strategy of flirting with fiction and reality: alienation. (..)
<![if !supportEmptyParas]> <![endif]>
<![if !supportEmptyParas]> <![endif]>
<![if !supportEmptyParas]> <![endif]>
<![if !supportEmptyParas]> <![endif]>