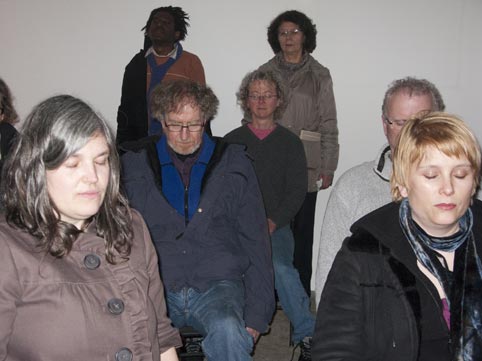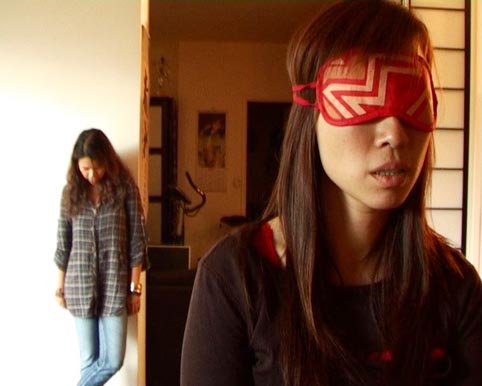 SERIES OF TELEPATHIC EXPERIMENTS
EXPERIMENT 1:10
at opening of "Slippery Terrain" Eastern Edge gallery in St Johns New Foundland Canada on March 7th 2009.
This performance / experiment is influenced by experiments on telephone telepathy done by Rupert Sheldrake and by his texts on paranormal phenomena.
In EXPERIMENT 1:10 the audience is asked to follow a simple relaxation and focusing exercise. The effort done by each participant will hopefully result in incoming telephone calls or other ways of contactmaking. I wonder wether we can make things happen by controling and focusing our minds.
I'm interested in these alternative ways of perceiving and understanding our world, not because I myself believe in these things but because of the idea of an optional lifestyle, perhaps even utopian.
I have not received any information from the participants regarding incoming phonecalls. But nevertheless I ended up having quite interesting discussions with some of the participants.
EXPERIMENT 2:10
Avenue d'Italie 85 Paris May 16th 2009
Most people have had the experience of turning round feeling that someone is looking at them from behind, and finding that this is the case. Most people have also had the converse experience.
This experiment was done with a group of friends in a appartment in Paris. The outcome was quite surprising and fascinating.
We all agree this is something quite normal. Could this be something we could improve and have use of in life?
EXPERIMENT 3:10
the Auditorium of Cité des Arts Paris at 20.30 on June 25th 2009
This performance / experiment is inspired by an experiment carried out during a Grateful Dead concert in 1970.
In EXPERIMENT 3:10 the audience was asked to follow a simple relaxation and focusing exercise. The audience was asked to focus on a image of a fish and then send it to the receiver who was resting in her home in Berlin.The event was documented on video. This experiment is part of my new work in Paris.
Thanks to everyone participating!
Receivers reply: I lay down on my bed and tried to relax, but could not resist thinking about my own things. As it often happens I was thinking about my visit in Colombia, my friends there, what we did toghether and about the film that I'm intending to make about the place.
I also thought about horses running wild on a large green meadow. I admired their beauty and strenght.
I can not recall any specific dream from the following night.
greetings,Gun
Results: The receiver did unfortunately not receive any images connected directly to fishes, water or swimming. She had though a vision of horses running wild on an open field. At least her vision was connected to the animal kingdom, nature, power and strength.
HORSES : Horses have for a long time been associated with passion and excitement. Horses though are very unpredictable and so can link to risk taking. A horse can quickly get out of control. Horses then tend to link to the general excitement and the level of risk in our lives. They may also refer to some upcoming event which involves excitement and risk.
Conclusion: as the fish represents good fortune in some cultures we might as well wish the receiver good luck with her upcoming work! : )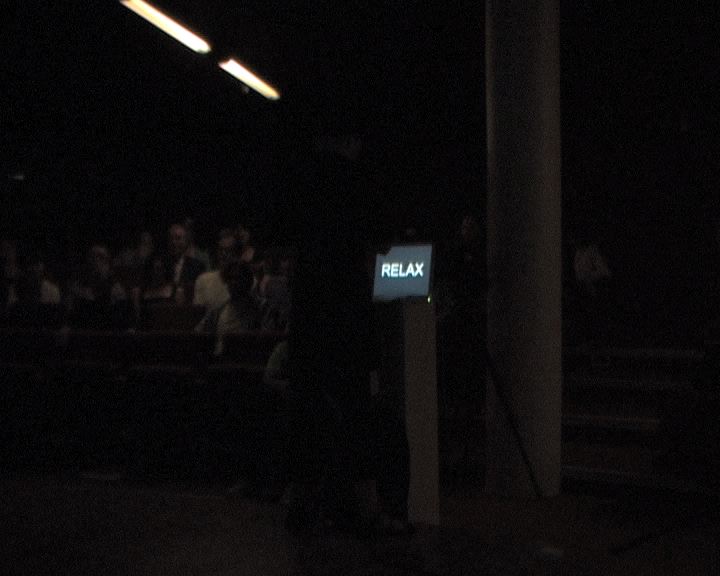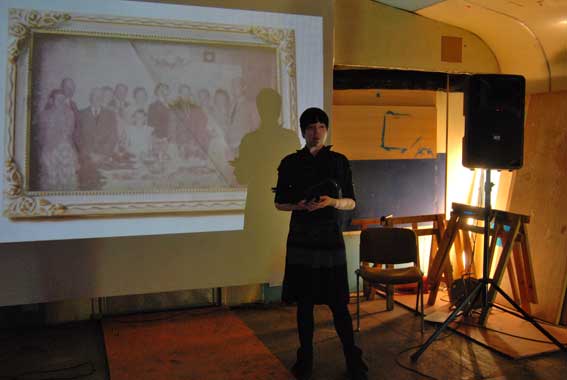 EXPERIMENT 5:10
Raumerweiterungshalle April 29th 2010 Berlin
All participants were asked to bring a picture of someone (alive & kicking) they have an empathic relationship with.
After a a relaxation exercise the participants were given instructions on how to proceed with focusing on and connecting to the person on the picture that they had brought along.
The idea is simple. By focusing and connecting to a person on a photograph there might be an incoming telephone call or another way of connection. If this does not happend one can also make contact to the person on the picture by calling them to check wether the target person was thinking of them.
After the event the participants were asked to let me know if their focusing had proved to work. Here are two results from the event:

hallo nina,
i was in your performance last night, short dark hair, red shirt....
so...it really happened to me, it worked! the woman on my picture
wrote me an email directly after the ceremony in the halle, i just
received it. we didnt have contact for lets say one week, so its
really a bit funny....

S got a "sign" from the person she was focusing on. They had not been in touch for months. The person wrote something to S on Facebook.
I also brought a photograph with me, and tried to connect to my brother Jussi in Finland. After the exercises I made a telephone call to him, but he had not been thinking about me at all. He was more surprised that I called. So perhaps I'm not such a good sender, more of a receiver.